I'm currently in Grand Marais, MN, but I got here by way of Hancock, MI.
My 4th iPod is still going strong. It occasionally starts to play a track, then skips to the end, then goes back to the menu though. This usually happens on podcasts, but I've had it happen on songs too. I'm hoping that this isn't some sort of incremental failure indication. It still plays music though. I've had it running nearly straight through since Tuesday night when I left home.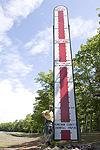 How much Depeche Mode is a lot of Depeche Mode? I decided to find out. On Tuesday, as I entered the Duluth area, my iTrip started breaking up as expected. There's a radio station that broadcasts on or near 87.9MHz there. Rather than mess around with changing frequencies, I just listened to local radio for a while. When I left Duluth on US 2 eastbound, 87.9 cleared up again and I was free to listen to my own music again. But what to listen to? I had a brilliant idea and set the old iPod to shuffle all the Depeche Mode on it. 135 tracks. I listened from Duluth to Ashland that night, hearing some of my least favorite songs, but ending with John the Revelator from Playing the Angel. I listened on Wednesday from Ashland, WI to Hancock, MI. I listened on Thursday from Hancock to Copper Harbor and back through Hancock and Ashland almost until I met with interference in Duluth again. Wow! That's a lot of depressing music. It was fun, but unlikely to be repeated.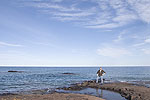 Duluth ended up making me glad I didn't schedule more than one hotel in a day. When I do that, I plan on 2 hours per hotel plus travel time plus 30 minutes. I started three hours early there and still wound up leaving one hour late. I got a great series in the water park though, I'll have to make an animated gif and put it here later.
The hotel here in Grand Marais is nice. I get a good view of the lake from my window and it's easy walking distance out to the point or anywhere else in town really. I hear there's a cafe with microbrews here. I think I'll go look for it. And try to find an eye-glasses place at which to get my shades fixed.
Facebook | MySpace | Twitter | Digg | Reddit | Stumble |
blog comments powered by

Disqus