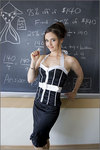 Do you remember Winnie Cooper from The Wonder Years? If you're male and about my age, there's a 50% chance you had a crush on her in the 80s. There's also a chance you have kids by now. If you do have a daughter (or a really young girlfriend) and she's old enough to be learning fractions or starting pre-algebra and (this is the tough one for my crowd) likes teen magazines, then Winnie Cooper has a book for you. Make that two.
After The Wonder Years, Danica McKellar took some time off to get a BS in mathematics (suma cum laude even) from UCLA. She's continued with acting in shows like The West Wing and How I Met Your Mother, but she's also done something to help the girls of the world get comfortable with math.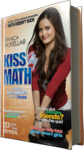 Last year, she released Math Doesn't Suck. This is the first book, to my knowledge, that is targeted directly toward middle-school girls who are having a hard time coming to grips with not only who they are, but what math has to do with them. This year, she released Kiss My Math, aimed at slightly older girls going into pre-algebra. Now I have to admit that I haven't read this book, or Teen Magazine, or Elle Girl, and there's a fair chance I won't but, from what I've heard, she has done an excellent job engaging young girls and even young boys in everyday math.
Her message is pretty simple and is a little beyond the title. Sure, her message starts with "math doesn't suck", but she also covers "you use math every day" and "you don't have to dumb yourself down to make boys feel good about themselves." And honestly, if a young girls role in life is anything, isn't it making boys feel good about themselves?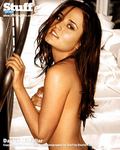 But seriously, the books are aimed at an age group where kids are just starting to look at the opposite sex as fun rather than icky. Since boys are clueless, girls will often use a tactic of making boys feel good around them to subliminally gain favor with the boys. One common way is to ask question, about math or whatever else, that they already know the answer to in order to make a boy get that "alpha" feeling. Danica's point on this is that, if you're going to ask a boy a question, make it one you don't know the answer to and make that boy work for the answer, that way, he'll feel even better about coming up with an answer and he'll feel even better about you because you didn't ask a stupid question.
More along the lines of math, she asks practical questions like "if that prada purse is $64.00 but it's on sale for 30% off, how much does it cost?" This gets to the root of societal feers about math. We use it every day to make change, make sure we have enough cash in our savings accounts, and make sure the government is getting their fair share. You're already used to using math, how can you be afraid of it?
Facebook | MySpace | Twitter | Digg | Reddit | Stumble |
blog comments powered by

Disqus