Last week at the Olympics additional evidence was recorded that the President is a bit pervy.

Not that there's anything wrong with a good spanking, but it helps if that's what the recipient is actually expecting rather than a short lesson on volleyball playing.
And everyone should remember what happened in Germany.

Again, there's nothing wrong with massages, but its less wrong when you're not walking to your seat at the G8 summit. On Camera.
The UK, at least, has an internet-based sense of humor about the whole thing. Click through to the Guardian for more LOL bush.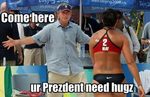 Facebook | MySpace | Twitter | Digg | Reddit | Stumble |
blog comments powered by

Disqus