Pre-race training and nutrition
I worked with a nutritionist over 9 weeks this summer to help fuel these long rides. We dialed in a strategy that's easy to manage with minimal thought that's been extremely helpful in my training as well as in this race. Pro-tip: you can set custom alerts on your bike computer to remind you to drink and eat every x minutes of activity.
Day 1: The Familiar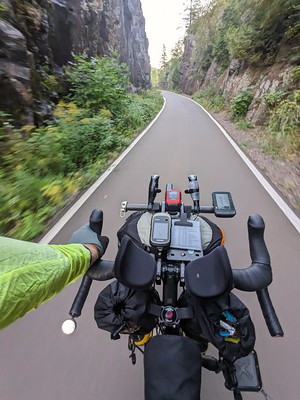 I rode down the hill from my hotel with 15 minutes to spare, after getting as much rest as possible by biking over the night before. Chatted for a few minutes, lined up for the group photo, and headed out on the neutralized start. I always get dropped on the neutralized start because I'm a slow climber but I did get a chance to compliment Jessica's custom Go Physio gilet before the hill started; I'm a fan of Paulie and if you need a bike fit, he's a great bike fitter who knows body mechanics and physical therapy too.
I've ridden the southern section of USBR 41 many times on training rides and both directions of the MS150 so not a lot stands out as novel to report here. I kept to my plan of 20oz of water with Skratch hydration plus my target grams carbs per hour, followed the twisty route around White Bear Lake, and onto the Sunrise Prairie trail, and made my first stop at the top of the hill in Pine City, after the roughest section of road on the southern half of the route. They're slowly repaving and adding a trail but it's going to take another decade.
I filled up my water bottles and added a lower concentration mix for the rest of the day, supplementing my liquid carbs with sour patch kids and buffalo blue cheese combos for some solid carbs and a little protein and fat to stay sated. I blew through Hinkley, which is a regular stop on this route for me when it's hotter out but the temperature was perfect in the 10-15C range and I had plenty of fuel so no need to stop and rest or restock there.
The first few miles of the Munger trail are the most rutted, butt-bashing section of the trail and I was glad for my new suspension seatpost and my old suspension stem. Through the twisties after Finlayson and on to Moose Lake for another restock.
Carlton always seems farther than I think but it's mostly downhill from Moose Lake to Duluth, including the amazing rock cut section on the final miles of the Munger trail. My plan had been to get to Duluth and see how I felt about continuing. Last time I stopped in Duluth but this time I was an hour earlier and feeling strong so another restock at the Kwik Trip and onward to Two Harbors.
The temperature dropped to -1C as the sun went down but I was feeling good and had enough layers. It was much nicer than the 30C+ temps dealt with on training rides this summer. The hills of the route just barely start on this section and I was reminded again how slow I am uphill. I knew if I pushed too hard I'd burn out and have trouble continuing so I kept to my target effort.
Brian caught up with me on the way into Two Harbors and we chatted for a bit. I was feeling the extra miles from Duluth and planning to stop at a hotel and they were planning to continue on. I got the second-to-last room in the hotel and the racer right behind me got the last one. We both paid too much but it was worth it for a shower and a soft bed. I forgot to hit the convenience store across the street before stripping off my bib and taking a shower and didn't feel like wandering over in a towel so I had my recovery drink and ate some food I had with me for dinner and hit the sack at about midnight.
Day 2: Hills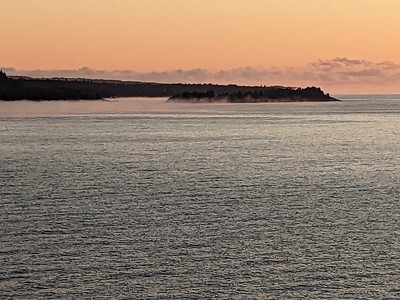 Out the door at 6 AM. Two harbors to Silver Bay is the first actually hilly section with a solid 200-foot climb. Getting through it on the first day would have made an even third of the total route but I was glad I didn't try it the night before because it took me 3 hours. Back on and off of highway 61 after Silver Bay depending on the status of the Gitchi Gami State trail. Beautiful where it existed, often rough with angry and/or polite drivers where it didn't. Kate Coward passed me going the other way before I made it to Beaver Bay so she was well over 200 miles ahead of me.
I stopped in Grand Marais about 3PM for a restock and booked a hotel room for the night. Even more expensive than Two Harbors but not unexpected. They mentioned another rider was going to get in around 11 that night; that was my plan too since I still wanted to hit the border before stopping. Nick was restocking on the way south and we chatted about their cascade of tire problems including sidewall tears and punctures. Never in my tens of thousands of miles of riding have I gotten a sidewall tear and it sounded awful.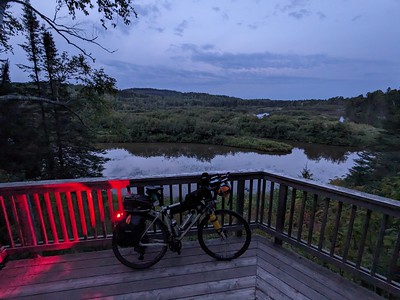 Arriving at the Grand Portage Reservation is a highlight of this ride and also a portent of doom. The pavement is the most perfect and pristine of the entire route but the last few miles to the border are the largest one-shot climb of the event with 500' of gain over 3 miles and basically the same thing on the way back over the ridge. It wasn't as bad as I remembered from last time, partially due to fitness but also due to lower gearing and packing lighter.
On the way back to Grand Marais, I thought it couldn't be too far but then realized I was still on nice pavement so I wasn't even 10 miles from the border.
3 miles from Grand Marais and I could see the lights ahead. I also saw a big spill of gravel out of the Ace Hardware parking lot. As soon as I hit the gravel I heard the pshht-pshht-pshht of a puncture, cursed, and stopped at the side. Turns out that conversation about sidewalls was just foreshadowing and I spent a good half hour in the rain draining sealant, sticking on a tire boot, inserting a tube, and swearing about the weird valve shape on the tube my tire gauge won't seal with. I guessed at the pressure and continued on. When I arrived at my room, I pumped up my tire some more to get the bead to seat properly and eliminate the bump-bump-bump flat spot.
Day 3: More Hills
I had the impression that a place called The Hub would be a bike shop but I was wrong and didn't buy a spare tube in case of another sidewall failure. Fingers crossed the first section southbound would be mostly identical to the first section northbound.
I spent most of the day thinking about where to stop for the night. I was well ahead of my previous race and if I stopped in Duluth, I felt like I'd be wasting my advantage against myself. But there didn't seem to be any good options in Carlton or Moose Lake and I remembered one of my big problems last time was failing to stop on the 3rd night, so Duluth it is. I checked ahead online and found yet another overpriced hotel, this one with its own marina, and booked a room. The short day was good for me because the majority of the hills are between Grand Marais and Two Harbors and they were really tough after 400 miles of riding. The weather remained amazing in the mid 10s C without too much beating sun.
I arrived at my hotel late in the evening and was glad I didn't try to go farther. I looked for decent delivery food for recovery and ordered a hawaiian pizza from toppers with some breadsticks. I didn't realize pizza and crust could be that greasy. Eww. So I only managed ¼ of the pizza and a couple breadsticks and hoped it would be good enough. (I remembered when I got home there was a Pizza Luce in duluth.)
Day 4: The Final Miles
I was out the door by 5 AM which put me 5 hours behind last time but I knew how tired and slow I had been after riding all the way from Grand Portage that day and continuing on up the hill out of Duluth. So, continuing on up that hill out of Duluth, I stopped a couple times because it's a long one with nice views. My first restock was at Moose Lake, which I got to later than last time (I thought) but I was feeling good.
The roughness of the last 5 miles of the Munger sucked, like they always do, but at this point, whatever…still glad for the suspension seatpost.
I skipped through Hinkley again and continued on to Pine City where last time I had to rest for a long while due to heat and exhaustion. Aside from some spiky pain in my calf due to sloppy left-leg pedaling and an overall lower available power than normal, I felt OK this time at 560 miles in. Even my saddle pain was pretty manageable, all things considered.
The section from Hugo to St. Paul feels amazing with what seems like more downhill than up. I knew once I got to the Gateway Trail I'd be even faster and the Vento would be faster still. I was probably slower on the Gateway this time than last because I had a burp flat on one of the bumps earlier this year that eventually earned me a new rim, which I wanted to avoid.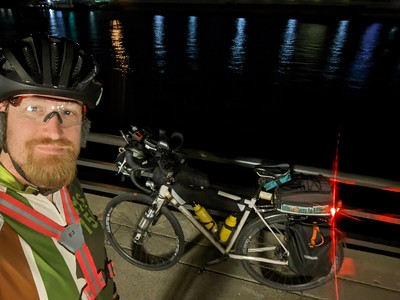 I got to Shepard Road, mere feet from the finish line where people were (yay) waiting with cowbells and cellphone video…and the light was red. Last time the two people right in front of me ran the red light, barely looking, which I was not willing to do at that intersection even at midnight. This time there was barely any traffic but there were two police cars sitting on the other side of the intersection so I waited, and waited, and waited for the light to turn green. I crossed to the serenade of cowbells and finished the race in 12th position at 85 hours, 4 hours faster than my previous time. After a short rest and some conversation, I rode the 10 miles back home.
Lessons
Nailing down a hydration and nutrition plan really helped me. If I was better about evening recovery food and early morning pre-fuling I would have been able to shave more time off. Packing only the hydration/carb mix I intended to use, with only a little wiggle room, kept my weight low and significantly lower over time.
Packing lighter with smaller panniers was also a big help for the hills and the headwinds both ways on the North Shore.
Upgrading to an XX1 Eagle derailleur with a 10-50 cassette was great for me on the hills and the electronic shifting allowed me to spend way more time in the aero bars for comfort, efficiency, and speed.
My new gel gloves felt like cardboard after day 2, so I was glad I packed a spare set.
I focussed on building my base this year including several training rides this year close to 200 miles and I never felt like I was out of power, just getting really low. Now I need to continue building that base for the winter ultra season.
Gear
Specialized sequoia steel frame (steel is real)
Path Less Pedaled "PartyPace" and "SUP PLE" stickers (worth an extra 5 Watts)
Sun Deluxe dynamo hub
Sinewave Beacon headlight
Redshift shockstop stem and seatpost
Bisaddle adjustable saddle
Pirelli Cinturato Velo 35mm tires
SRAM Force/XX1 AXS 1x 10-50 drivetrain and Quarq power meter
Revelate feed bags and mag tank
Johnny D's half frame bag and bits bundle
Baryak front aero/packing bars with sea-to-summit dry bag for sleep kit
Wahoo Elemnt Roam for ride tracking
Clipboard for cue sheet to major waypoints
Garmin InReach Mini satellite tracker for race tracking
Garmin eTrex 35 for navigation and back-up tracking
Garmin Enduro watch for heart rate monitor and back-up tracking
Ortlieb gravel-pack panniers
Skratch hydration mix, Skratch super-high-carb mix, Infinit :speed mix
Facebook | Twitter | Reddit | Stumble
blog comments powered by

Disqus