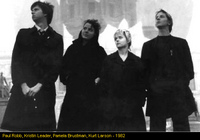 "Strange haircuts, cardboard guitars and computer samples." said Kurt Loder of MTV news; Truer words about Information Society have probably never been uttered... except maybe "Dude, your hair looks like a rake!"
One of the many bands to emerge from the Minneapolis music scene, Information Society has a long history of unique dance and electro/freestyle music. They hit a rough patch in the 90s over a difference of musical vision and fell off the mainstream radar for a while, but the band maintained a strong underground following and continued its popularity in nightclubs worldwide.
After a five year break and shuffling the lineup a bit, Information Society began recording and releasing again in 1997. Their most recent tracks, from this decade, play like a more mature, fully realized version of their earlier work: Less eclectic but with just as much "pure energy." Re-releases of their work continually expose a dedicated fan base by reaching #1 on the Billboard Dance/Club charts.
Information Society will be at The Varsity Theater in Minneapolis with MOULIN NOIR and Faith Assembly on March 28, 2009. Tickets are on sale now at indietickets.com.

Information Society-What's On Your Mind
by hushhush112
Facebook | Twitter | Reddit | Stumble
blog comments powered by

Disqus