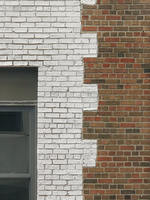 "The OnePlus 5 features the highest resolution dual camera on the planet," says the marketing copy. After a few months of using the phone's camera, it's easy to see that resolution has been squandered by software. In the early days of adding cameras to phones, it was expected that the quality of the camera would suffer greatly, but after a few years, they began to surpass many low-end point-and-shoot cameras. We've come to expect the camera in our pocket to be fast, clear, and have more features than most others, with dual lenses, depth detection and effects, and great HDR rendition. The 5 squarely hits many of these marks with fast focus, face detection, and a second camera to mimic shallow depth of field, but in low light or using HDR, the images show a distinct watercolor-like quality to them.
Some users have found that downloading a hacked version of the official Google Android camera fixes this problem, but risking malware isn't what photography is all about. It's important to note here, that if you want Google's photosphere option, installing the hacked app is also the only way to add that feature to your phone. The interesting thing about this is it shows the hardware to take great photos is in place, but in forking Android to create Oxygen and eschewing Google's code for the camera, OnePlus has gone the opposite direction they intended.
The vast majority of the 5 is great. It feels snappy, and the Oxygen OS is almost exactly like Android, but with more out-of-the box options for tweaking preferences. In fact, some of the default preferences will send you directly to the settings asking "how do I fix this?" One place they saved money in the process of creating a budget flagship killer is the screen resolution, but the screen is plenty high-resolution for most users. The fit and finish is top-notch with a textured plastic back that keeps you from dropping it but doesn't feel cheap and very clean lines. I love that switching environments frequently is a breeze with the normal/DND/silent slider on the side of the phone. I won't bore you with the specs, but there's enough RAM and storage in this phone to last you quite a while and hold all but the most audiophile of users entire music collections.
In addition to the camera problems, I've run into some frustrating bluetooth and wifi connection issues, possibly because of cost-savings in the radio. When you're in range of a recognized WiFi network that requires you to log in or accept conditions (think your favorite coffee shop) the phone will have zero internet connectivity until you turn off WiFi or log into it. Bluetooth audio has random choppiness, but it's particularly bad when you're anywhere near a WiFi access point and sometimes it will pause your music for no discernible reason.
So if you're looking for a flagship Android phone and don't care about the camera, this phone is probably perfect for you, but don't buy it because of the photography-centric advertising on the OnePlus website.
Facebook | Twitter | Reddit | Stumble
blog comments powered by

Disqus