After completing the Arrowhead 135 in 2019, as a rookie, with a bad knee, during a polar vortex, and loving the scenery and the accomplishment, I started considering the Order of Hrimthurs. "I've completed the hardest race of the three, in some of the worst possible conditions," I thought, "so how hard could this be?"
Last summer, I signed up for the Tuscobia Winter Ultra 160-mile bike, The Arrowhead Winter Ultra 135-mile bike, and the Actif Epica Winter Ultra 200k bike, with the intention of finishing yet another impossible task on my first try.
So here's how that went.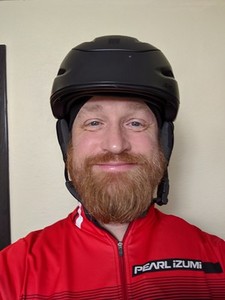 The weeks leading up to the Tuscobia, the weather looked grim; temperatures right around freezing with the possibility of precipitation. What's so grim about that, you ask? Warm weather and snow sounds great, but soft trails and rain sounds terrible. Back when I used to winter camp as a boy scout, we were always glad when it was a few degrees below freezing and snowing instead of a few degrees above and raining because winter gear is rarely waterproof gear.
In 2018, the conditions were similar and the trail conditions were the subject of much talk from the participants. To add to the concern, the weather forecasts as the event grew closer kept predicting even warmer weather and an even greater chance of rain.
Despite the predicted conditions, I felt like I was reasonably well prepared. Waterproof outer layers, sufficiently wicking under layers, multiple changes of all my layers packed in my paniers, and an optimistic view of the relatively flat course ahead.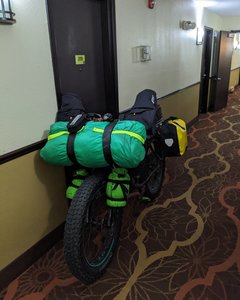 My hotel was about 3 miles from the starting line, and check-in was at 5:15 AM, so it was an early morning for me. It took only about 15 minutes to bike to the KoC hall to check in, but nobody was there for at least another 15 minutes. Not a big deal, but the lack of hot porridge did change my breakfast plans a bit.
The race started promptly at 6:00 AM and we all set off down the Wild Rivers Trail toward the start of the Tuscobia Trail...and pretty much all of us at the back of the pack missed the turn and had to back-track at least a few feet. (We were a bunch of rookies.)
The first 18 miles of the trail were amazing. Hard, fast, flat, and scenic. I was really looking forward to a quick 160-mile ride and step one of three completed for the Order. Then we hit the town of Birchwood and everything changed.
The trail east of Birchwood was oddly softer and more churned-up by snowmobiles. Constant snowmobile traffic (we were warned they were not required to slow down when passing bicycles and there is no speed limit for snowmobiles in Wisconsin) kept breaking up the hard crust I was riding on and turning it into a soft, sloppy mess of half-baked mashed potato snow.
For folks who haven't fat biked before, mashed potatoes is how we describe the worst snow for biking. It has this stick/slip thing going where you can be riding along fine and then your tires just move to the side, throwing you off balance. This is, however, what fat bikes were built for; the trick is just to lower your tire pressure until you start rolling over the top without it shifting under you. The downside is you lose a lot of speed.
After letting some air out of my tires, my average speed dropped from around 7 mph to around 5 mph. Not terrible, and it still gave me a reasonable finish time, but it was a solid kick in the morale.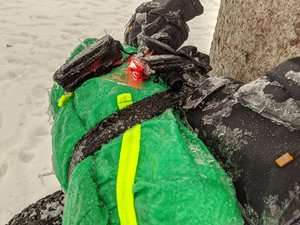 By the time I reached checkpoint 1 at Ojibwa, 30 miles and almost 5 hours later at 1:00 PM, it had been raining long enough and cold enough that my bike and all my gear was covered in a layer of ice that had broken and fallen off more than once. My outer layers were soaked through but I had dressed right and my base layers were mostly dry and I was in no risk of getting too cold.
Continuing down the trail after spending too long trying to dry my gear and refuel, the conditions kept deteriorating. It took me far too long to figure out that the left side of the trail was faster since the 80-mile crew had set out that morning and kept to their right, meaning all the snowmobile traffic passing them had torn up my right side of the trail, making it nearly impassible. This is about when the winner of the 160, Neil, passed me going the other way so fast I barely had time to wave as he called out "hey yo!" on his way by. "He's going to finish before any of the 80-mile racers, isn't he?" I thought, as I kept pedaling. (narrator: he did)
As the hours and miles lumbered past, the snow got softer and softer, making it hard, even with 4.8" tires at 1-2 PSI, to keep from falling through. The extra weight of my tendency to over-prepare certainly didn't help, and I considered trying to figure out how much disposable stuff I had with me, but I couldn't come up with enough weight to make a difference.
Eventually, 30 miles and nearly 10 hours after I left checkpoint 1, I arrived at checkpoint 2. It was 11:20 PM and the checkpoint closed at 11:30. In the last few miles I had been doing some math over and over in my head. I was right on track to complete Tuscobia in the same time I finished Arrowhead last winter. I was halfway there and it was before midnight, so I was even ahead of schedule. I finished Arrowhead in 38 hours 9 minutes, and I had a full 41 hours to finish Tuscobia, so I was doing great!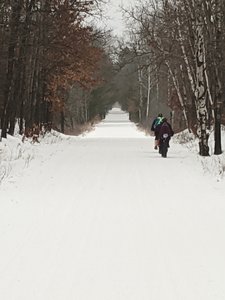 The Park Falls Gastropub was full of people who had decided to drop and a few people who hadn't decided yet. I took too long again to refill my hydration pack and recharge my electronics. They had a delicious soup, but my stomach did not want to have anything to do with it, so my cup ended up wasted, but I did have some coffee to keep me going. I was still soaked and kind of tired of it to be honest, so I switched for a hard shell to try to stay a bit dryer on the way back. Every time I reached into a ziplock or a pannier, I dumped water into it and the softshell jacket I took off probably weighed an extra pound from rain. So much for keeping all my stuff dry.
On the way out, I guess my stubbornness convinced a couple other people not to drop and four of us rode across the slick, icy streets of Park Falls, Wisconsin back to the eastern end of the Tuscobia trail.
At this point, the trail was absolute garbage. As the early morning went on, the number of times we fell through the crust increased. Eventually, the other three riders decided to take a left on a paved, ice-covered road, dropping from the race and making their way on more passable surfaces. But I checked my time and, even with the newly-reminded knowledge that checkpoing 3 closed at 10:00 AM, math told me I just had to do 3 MPH for the next 9 hours to make it.
Three hours later, I had gone 10 miles. Now I had to average 3.5 MPH.
Three hours later, I had gone 8 more miles. Now I had to average 4 MPH.
The next two hours, I only went a mile each. 5 MPH became 10 MPH...
I'm not going to make it.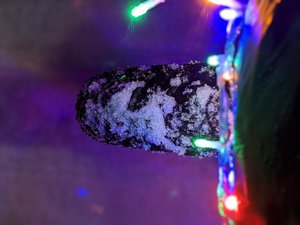 This is when the logistics of winter ultras became my foremost obsessive thoughts. Checkpoint deadlines should never be considered as goals. If you're getting to a checkpoint as it closes, you're probably in trouble. Of course, I considered this when planning my time for the race. But I was too stuck on my Arrowhead time being less than the available time to think much about the checkpoint deadlines themselves and completely missed that checkpoint 3 closed 13 hours before then end of the race but only 10 hours after checkpoint 2.
As I hiked my bike, postholing with every 3rd step, I thought about how the fast racers have completely different events than I do. At the Arrowhead, I was out in -35˚F weather well after the winner (and newly minted course record-holder) had finished in a relatively balmy -20. This morning, the winner of the Tuscobia had finished the day before, with a relatively passable trail, not this delicate surface of iced-over mashed potatoes.
At one point, there was a section of trail that was obviously saturated by rain. I had already had some experience with the deep snow in the gutters really being slush with some snow over the top, and I knew there was no way to ride over it, so I hopped off my bike and carefully chose a path that looked the driest. I was wrong. That path was also slush with some snow over the top. Oh well, my boots were already soaked through (they took days to dry out).
About 9:30 AM, with another 10 miles to go to checkpoint 3 and 101 miles into the 160-mile race, I got picked up by a snowmobile. We strapped my bike into a sled pulled behind and made several stops to make sure nothing was too loose. On the way, I learned there were many sections of trail with standing water on them and was kind of glad to not be trying to ride through them, even if it meant my race was over. We arrived safely at the checkpoint, my bike with a significantly more scratched up steer tube, as it officially closed but nobody had been through in a while. Everything was pretty much packed up.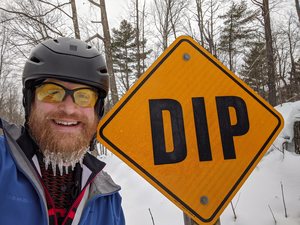 Later, at the hotel, I took a long hot shower, once again forgetting to turn on the fan with the pleasant sign above the switch warning that the fire alarm may go off due to steam (narrator: it never did). Lying on the bed, checking up on social media, I fell asleep at about 4:00 in the afternoon, 36 hours after I had woken up the previous day. When I woke up at 8:00 in the morning, I felt pretty well rested and super hungry. Luckily the hotel breakfast was still going on and I made good use of the waffle maker. This is when I noticed the tips of the middle two fingers of my left hand were slightly numb. Oddly, the same thing happened to the same two fingers of my right hand after the Arrowhead; it eventually went away. Is something wrong with my bike fit? Why didn't I notice it the day before?
What did I learn?
I pack too much and need to lighten my load. I can't eat everything I bring and more weight in the back just makes me more likely to fall through the trail.

Start with a hard shell if it's raining. Even though my wicking system kept my base layer dry, I didn't need the extra weight or the reduced insulation of wet layers.

There's always next year.
Facebook | Twitter | Reddit | Stumble
blog comments powered by

Disqus