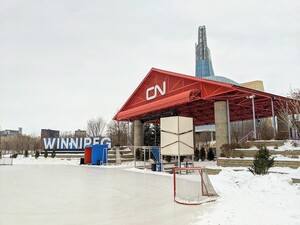 Actif Epica is the third and final race in the Hrimthurs series of winter ultras. At 205k on the prairies of Manitoba, it's also the shortest and the flattest, which I thought would obviously make it the easiest. After failing the Tuscobia by not considering how checkpoint timing worked and scratching the Arrowhead by choice, I was expecting to bike for most of a day and then hang out in my hotel room for a while.
The gear requirements are similar for all three races, with variations around what temperature sleeping bag, how many lights, and how many emergency calories you need to bring. For this race, my packing list was very similar to others except I tried to lighten my load once again. I kept my sleeping gear the same as usual in a ready-to-use roll on my handlebars. I reduced the amount of solid food in my panniers and planned on mixing a new batch of liquid food at each checkpoint. And I kept my clothing options to what I considered "minimum safe" with enough changes of socks and hand warmers to stay warm and additional layers for the overnight low.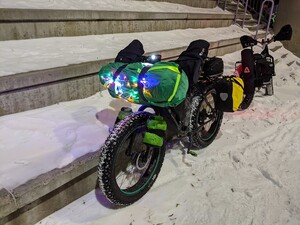 Saturday morning at the start of the race, it was -3°C (26°F) with no wind and a crisp layer of frost over everything. I was happy to be awake for a pre-dawn bike ride. I made one last check over my gear, filled up my hydration pack and put it on, and then heard a dribbling water sound from behind me. There was no bite valve on my hydration tube! What? No! That was my only plan for hydration. I didn't even have a bottle packed, which was a bad plan now that I thought about it.
I knew exactly where it was, of course; sitting on the drying rack in the kitchen at home where I had taken it off and scrubbed it out and soaked it, trying to get rid of the gunk that's a byproduct of not using only water.
I brainstormed possibilities and posted on facebook hoping someone would have a spare valve or tube. I was in luck! One of the racers had a whole pack they weren't using. I headed over to the starting line early so I'd have time to get set up, thanked them profusely, and waited for 0600 to roll around.
Due to high water and broken ice on the trail, the first part of the route crossed a street and was intentionally slow, led by a pacer. Once we crossed at the stoplight and headed onto a narrow singletrack covered with deep, soft snow, the race began and group started to spread out with those who are good at riding a 3" path with 4" tires at the front and me getting closer to the rear with each foot I put down to stay upright. It was good to know there were others just as bad at this as I was though.
The Actif Epica is a unique race in this series, starting at The Forks in downtown Winnipeg and winding through residential areas, the University of Manitoba campus, and along a busy business street before reaching the flat, straight roads that divide the 1-mile squares of farm fields. In previous years, the race started at the US border and made its way north, but climate change has caused the conditions on the southern portion to be unpredictable and frequently impassable, so the race now starts and ends in Winnipeg.
As I made my way out of town, I was sort of adopted by a small group of riders at the back of the pack going about the same pace as me, including one guy who was acting as guide, but didn't remember every change they made since last year, which was a lot of changes.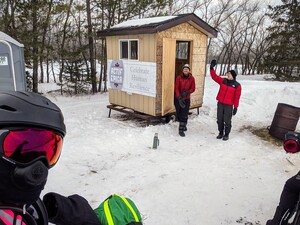 The first checkpoint was on a gravel road near the Red River Floodway and reminded me of an ice fishing house on stilts in a field...so maybe more like a deer stand but in a neighborhood. The trail under the bridge over the floodway was completely blown over with snow and very slow-going, but it cleared up on the other side and we were able to ride a bit before crossing over the levee and onto the road. We filled up our water, re-anchored one pack on a rear rack, and continued on after what, in retrospect, was probably too long a stop. The way back to the road on the blown-over trail seemed a little easier, but that was probably the fun-sized snickers bar I ate at the checkpoint talking.
The checkpoint was only mile 20 of more than 125; the sun had been up for a while and the wind from the west was increasing dramatically. Riding east, I had no trouble keeping up with the group, but riding west I was struggling to keep moving, much less keep up, so I stopped trying in order to conserve my energy for the rest of the remaining century.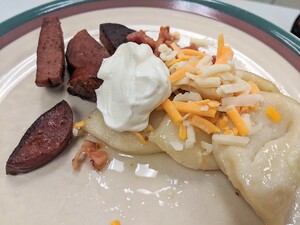 The checkpoints seemed really close, which I suppose they were, given there were 9 of them in 125 miles. The Niverville checkpoint stands out for me quite a bit. They had perogies that were locally made and delicious with bacon bits and sour cream. The park with the snow-covered trail just after Niverville also stands out for me since it was a bit harder to ride than the gravel. Between Niverville and Crystal Spring was some of the most variable trail conditions I've ever experienced. There was ice, hard snow, loose snow, rutted frozen dirt, pavement...it seemed like every time I got used to a surface it would change again, making it frustrating to repeatedly decide not to adjust my tire pressure.
After Crystal Spring was the really interesting part, and I mean that in the most Minnesotan of all possible ways. Between Crystal Spring and St. Pierre-Jolys, the "trail" dropped down onto the Rat River. After taking a wrong turn on the way down because I followed the track with more bike tire prints (which is always the wrong choice because the wrong track always has twice as many tire prints from the people who took the wrong turn and came back again) I got onto a nicely plowed section of river and enjoyed the change of scenery and the shelter from the wind. But the plowed section disappeared quickly and the change of scenery morphed into "I'm literally going 100m right over there but the river winds so much I'm never going to get there" for turn after turn after turn. The snow quality was difficult to predict with some drifts being quite passable and others only being passable for a few feet before my cycling race became a foot race.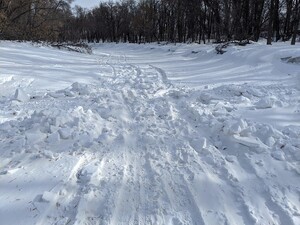 The time I spent walking on the river and pushing my bike was soul crushing. There were obvious tracks where other cyclists had just ridden through, probably because they were fast and light and only packed the required gear, keeping their bike even lighter. I am not and will probably never be one of those people, so I had to keep reminding myself that these events are events where I compete with myself, not anyone else. As only one person came the other direction, I was pretty sure I had been in last place for quite a while.
When I finally arrived at the end of the river section, I wasn't sure if I was exiting in the right place because the "trail" up to the road at the bridge was easily a 150% grade for 12 feet or more. So add another trail surface to the list I guess? Time to climb off the bike and climb up the bluff using tire studs and brakes as a makeshift climbing axe.
At the turnaround checkpoint, there were a couple people just getting ready to leave, so I didn't feel like I was too far behind everyone else. I took a little time to dry off my wicking layers and have some food and drink. I need to drink more while I'm actually riding, which is something I remind myself of at every checkpoint, which is clearly not often enough. I chatted with the folks at the checkpoint for a while, they gave me a commemorative pin, and I discovered I was running critically short on time to make the checkpoints on the way back before they closed. Once again, I was bitten by the fact the finish-line cutoff was timed for runners, not cyclists and that I need to really look at the timing of the last checkpoints when planning a race like this. So...out the door I went, leaving some unfinished ham and a lot of morale behind. Back down the paved road to the bluff, which I decided to ride down while riding my breaks and crossing my fingers. On the way back up the river, I kept trying to judge my distance by the quality of the snow I remembered. But I kept waiting for the really shitty snow to start and it kept not starting, meaning I had a really long way to go. But then my GPS told me to turn right off the river and cimb up to the road again, so something must have changed.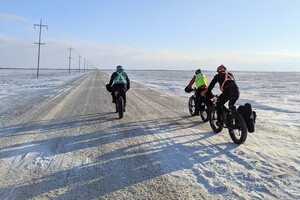 A likely explanation for the firmer snow is that I guess I hadn't realized how much colder it was now than when I started. When I left St. Pierre-Jolys, it was -17ËšC and it was all the way down to -23 by the time I left the river. My tires were getting softer, my feet were getting colder, and my time was running out. There was another rider at Crystal Spring who was also feeling the cold. I tried to give as much of a pep talk as I could while changing my socks for dry ones for better insulation and cramming a sticky bun and some soup into my face.
We ended up leaving at the same time but I was slightly faster down the road because I was so worried about time. The final checkpoint closed in a few hours and I had a very long way to go. It's ok though, after we rode together for a while, I was going too slow for them to stay warm, so they passed me and finished an hour before I did.
Another big drain to my morale was a (surprisingly short at 2 miles) section of farm road that was completely impossible to ride due to footprints, soft snow drifts, and ice. I tried riding in the field next to it but that didn't work either, so it was time to walk again. My bike computer says it took 45 minutes, but there were several times it didn't think I was moving at all, so it was probably longer than that.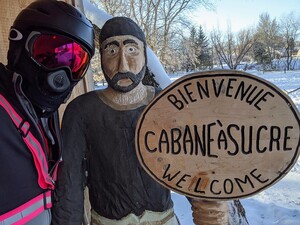 More pierogies at Niverville; more slow progress as the temperature continued to drop. After St. Adolphe, I had two concerned support drivers basically shepherding me in and giving me directions and encouragement all the way to the University. I wasn't sure I'd make it before it was officially closed to the 205k bikers at 0300, which was just a couple hours away, but they kept telling me they wouldn't turn me away because the checkpoint was open until 0430 for the runners. I still don't understand how that works, but I arrived at the checkpoint at 0315, which I guess was good enough. 25 minutes later I was back out on the road and on my way to the finish. But I got kind of lost on the way out of the rec center and took a scenic tour of that block of the campus.
The last 15 miles or so were hard. So hard. The temperature had dropped from -3ËšC at the start to -30ËšC a few hours back and -27ËšC as I left the last checkpoint. I was bundled up for warmth, which slowed me down. My bearings and wheels were cold, which slowed me down (probably...that's my excuse). I had been riding for almost 24 hours straight and a little faster than I should with a little less food than I should, which slowed me down. But, by the magic of foot race checkpoint timing. I had 5 hours to go the last 15 miles of city streets, so it didn't really matter how slow I was. I could probably walk that if I had to.
I was met a couple more times by the support drivers and given more encouragement. From time to time on the roads, I could see a car or truck sitting by the side of the road ahead with its lights on making sure the racers were ok. I passed many runners between 10 and 5 miles from the end, another reminder that this was a foot and bike ultra, not just bike.
Cross a cool old bridge again. Ride through a park again. Slip around a bit less on the narrow singletrack again. Cross the street at a stoplight again. Finally arrive at the finish line under the CN amphitheater at The Forks at 0600.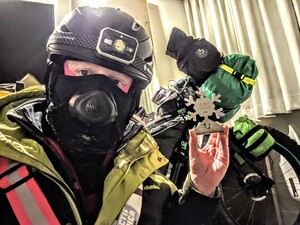 I walked my bike into the bunker under the stage, gave them my name, picked up my trophy, and biked back across the ice rink and the park to my hotel to take a hot shower/bath and sleep for as long as it took.
Overall, I guess it was a good effort. I finished in just under 24 hours for an average of 5mph including zeros, which is honestly not that bad for a single effort in winter.
As I keep doing these things, I keep learning things. The biggest thing I learn every time is I need to decrease my weight even more if I can. When I unpacked my bag, I had a couple pairs of socks and a hat and a bunch of food I didn't touch. The food...I feel like I should have eaten that along the way, which is the next biggest thing I learn every time; the clothing and especially the hat...I'm still glad I had them because so many things could have gone wrong along the way and caused me to need them, which I learned on my first Arrowhead.
I'd post a gear list here, but it really was basically like every other gear list I've written. Most of the ride I was wearing a merino bottom base layer with my Naughtvind bib under wind pants, and a merino top base layer with a PI winter jersey and winter jacket.
See you next year!
Facebook | Twitter | Reddit | Stumble
blog comments powered by

Disqus